In 2017, the United Nations declared that September 30 would be International Translation Day. This day recognises that the world is an incredibly multilingual place and that those of us who provide translation services play an important role in helping people understand each other and bring people together. For translators who work on "small" languages like Kriol and traditional languages, their work is even more important: firstly, because there are so few people who can offer these skills professionally and secondly because the work they do places value on languages that too often get forgotten in the shadow of English.
Read the official information from the UN on International Translation Day: https://www.un.org/en/observances/international-translation-day
Our work at Meigim Kriol Strongbala is heavily involved in the translation world: from helping with Coronavirus information, to translation children's books, to providing a Kriol translation service and even just our bilingual website. You can even hear us talk about our book translation work at the NT Writers' Festival on October 4: see https://www.ticketebo.com.au/translation-two-ways.html for more info.
Read on for more on our translation work.
Translation in the year of Coronavirus
2020 has been a difficult year for all. When news appeared that a deadly new virus was quickly spreading around the planet and anxiety grew, there was a potentially life-saving need for clear and accurate information in languages that people understand best. The work of translators became urgent. Across Kriol speaking communities, we saw many individuals and organisations working hard to translate Coronavirus messages in English materials into different Kriol dialects. We were happy to share a lot of this work on this website, a lot of which is still highly relevant.
See our collection of Coronavirus information in Kriol here: https://meigimkriolstrongbala.org.au/rop/coronavirus-information-in-kriol/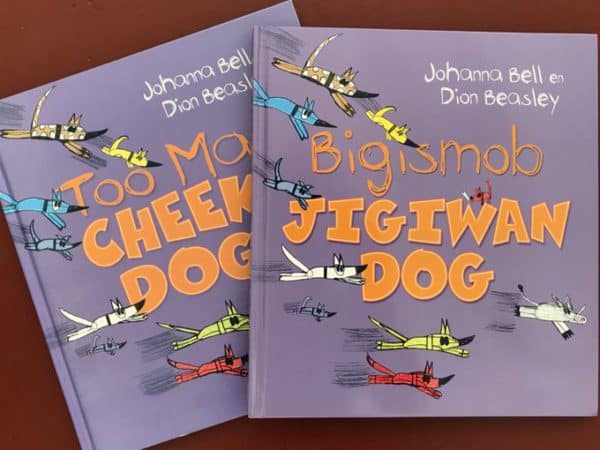 Literature translation and Bigismob Jigiwan Dog
At the same time, here at Meigim Kriol Strongbala we were involved in a more entertaining translation project. Working with publishers Allen & Unwin and the creators of the popular NT picture book Too Many Cheeky Dogs, we helped to create a Kriol version of the book called Bigismob Jigiwan Dog. When Bigismob Jigiwan Dog was released in June, it made a little bit of history as the first Indigenous language translation of an existing English title to be released by a major commercial publisher. We have since been thrilled at how the book has been received by kids in communities and at how many copies have been sold too – the publishers have run out of copies and are planning to print more!
Bigismob Jigiwan Dog is available on our online store and from various shops. We also have supporting materials freely downloadable on our website.
Professional translation services
A small but important part of the work we do at Meigim Kriol Strongbala is to offer translation services in Kriol to organisations and individuals who want documents translated from English into Kriol. This service is important because while the NT has a strong government-funded interpreter service (which is for oral translation) for written translation, it can be very difficult to find someone who can provide professional services. This year, we have completed Kriol translations for a number of organisations including Northern Land Council, Roper Gulf Regional Council, Katherine Town Council, Djilpin Arts Aboriginal Corporation, Women With Disabilities Australia and Menzies School of Health's Hepatitis B project. The income we receive for these jobs also helps grow our program and contribute to the local economy.
Read more about Kriol translation services here: https://meigimkriolstrongbala.org.au/en_au/resource/translation-services-for-kriol/
Meigim Kriol Strongbala's bilingual website
When Meigim Kriol Strongbala started in 2019, we wanted to build a website too – partly to share news and activities but also to act and central place for people to access resources and information about Kriol. It seemed obvious that a program like ours should have a website that was in Kriol as well as English. So, we translate everything we put on the website and make it available in both Kriol and English. You can switch between the English and Kriol versions of the website using the Kriol and English buttons at the top. We are really pleased that our website provides more content on the internet in Kriol and so giving Kriol speakers a wider variety of material to read in Kriol.
You can also follow us on Facebook, Twitter and Instagram where we post in Kriol.
Translating children's songs and book with Ngukurr FaFT
Locally in Ngukurr, Meigim Kriol Strongbala delivers education programs, including weekly visits to Ngukurr's mothers-and-childrens playgroup called FaFT (Families as First Teachers). At Ngukurr FaFT we help mums translate some of their favourite songs and books into Kriol – and have lots of fun along the way. For example, we translated a story called The Very Cranky Bear and turned it into a roleplay. We have translated a few songs into Kriol which the kids enjoy – you can watch and hear two of them here: https://meigimkriolstrongbala.org.au/rop/kriol-songs-with-ngukurr-faft/. And you never know, we may have a whole kids album by next year! Doing this work is a great way of helping children develop learning and literacy practices in their first language.
Here at Meigim Kriol Strongbala we would like to acknowledge all the translators across the world on International Translation Day for all the important work they do. We are humbled to be a tiny part of this wonderful global effort of communication across cultural and linguistic barriers.
Want to read this post in Kriol?
Click the 'Kriol' button above to visit the Kriol version of this website