Meigim Kriol Strongbala is a project from Ngukurr to strengthen the place of Kriol. Delivered by Stronger Communities Ngukurr, a division of Yugul Mangi Development Corporation.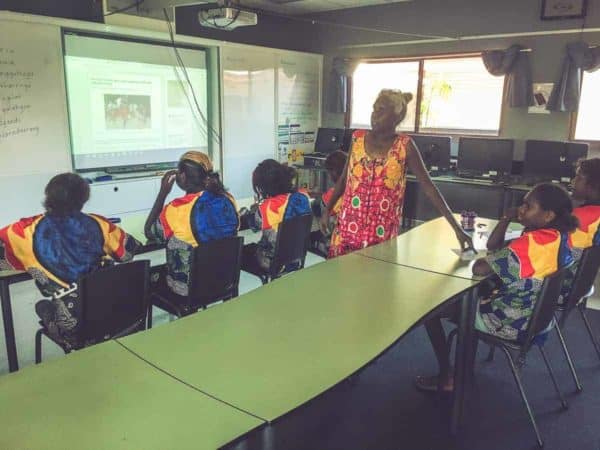 My name is Greg Dickson and I grew up in Brisbane where I studied linguistics. I first lived in Ngukurr in 2004, working at the language centre and I have been learning and speaking Kriol ever since. I manage the Meigim Kriol Strongbala (Making Kriol Strong) project and am happy to still be supporting Ngukurr people to do this type of work.
My name is Carol Robertson and I live here in Ngukurr. I worked with SIL before and did back translation of the Kriol Bible, that is Kriol back to English. The program where I work is called Making Kriol Strong (Meigim Kriol Strongbala). Our workplace is at Ngukurr School.
Hello, my name is Shania. I am a local from Ngukurr and I work as a Kriol translator. This is a temporary thing for me, but it is one of my passions. That passion is to encourage the younger generation to learn, maintain and be proud of being a Kriol speaker. My favourite part of the job is working with school kids and teachers. It is very encouraging to see that students and teachers are working together in a learning environment to better understand one another.
Two of my favourite quotes are "If you talk to a man in a language he understands, that will go to his head. But if you talk to a man with his language, that will go to his heart" and "One language sets you in a corridor for life. Two languages open every door along the way." Both by Nelson Mandela and Frank Smith.  So hopefully by incorporating Kriol in the community, the workplace and public environment it will only strengthen the relationship between the non-indigenous residents and locals.
Our reports contain some highlights we have achieved throughout the program.