Dijan im wanbala proujek brom Ropa bla meigim Kriol strongbala. Im gamam brom "Stronger Communities Ngukurr" en im pat ob Yugul Mangi Development Aboriginal Corporation.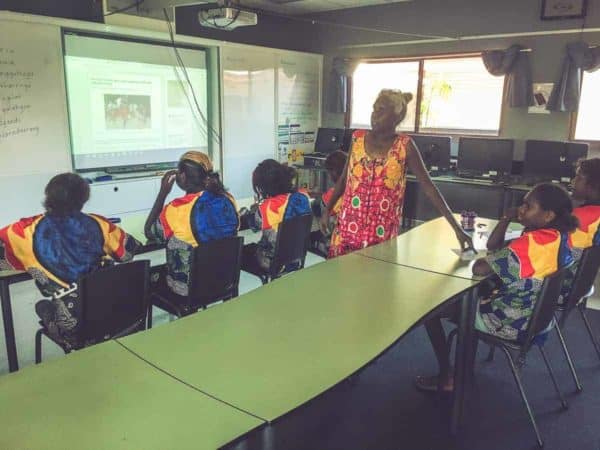 Main neim im Greg Dickson. Main skin im Wamut bat mi Munanga. Ai bin gro la Brisbane en ai bin gu la Yunabesidi ja, dumbat linggwistik. Ai bin fes lib la Ropa 2004, weking la langgus senta. Ai bin lenlen en toktok dis Kriol from det taim na. Mi menija bla dis Meigim Kriol Strongbala proujek en mi hepi mi still albumbat Ropamob dumbat dis wek.
Main neim Carol Robertson en mi jidan iya langa Ngukurr. Aibin wek garram SIL longtaim dumbat bek transleishan la det baibul brom kriol bek la inglish. Det program weya mi wek im Meigim Kriol Strongbala. Melabat wek iya langa skul la Ropa en melabat rait loda stori garram kriol.
Hello, main neim im Shania. Ai bin gro ap iya la Ngukurr en mi Kriol langgus weka. Ai onli garra wek iya ba shot taim, bat im samthing ai leigim dumbat. Main drim im bla luk ola biginini mob bla len, kipgon len and leigim mijel ba sabi Kriol. Dat wanbala pat ai leigim brabli im wen ai wek garra ola titja mob and bigininimob la skul. Wen ai luk titjamob en bigininimob wekwek mijamet la gudawan pleis, danja meigim mi gudbinji.
Wanbala seiying ai leigim im brom Nelson Mandela. Imin tok, "If yu tok la sambodi garra langgus im sabi, den danja garra gu la im gabarra. Bat if yu tok la sambodi garra im rounwan langgus, danja garra gu la im hat." Wal, ebribodi yusimbat Kriol ebriweya na laik la wekpleis en raitraun la dis komuniti en wen blekbalamob luk munangamob len Kriol im meigim alabat rispek alabat mowa.
Our reports contain some highlights we have achieved throughout the program.