Dis wik, mela iya la Meigim Kriol Strongbala bin brabli gudbinji dumaji Bigismob Jigiwan Dogbin gamat. Dijan buk imin Ingglish buk bastam. La Ingglish dei gulum Too Many Cheeky Dogsen dubala Johanna Bell en Dion Beasley bin meigim. Bat dijan nyuwan buk, Bigismob Jigiwan Dog , im fes taim eni bigwan buk oganaiseishin bin trensleitim Ingglish buk la eni blekbala langgus en selimbat jis laik ola Ingglish buk.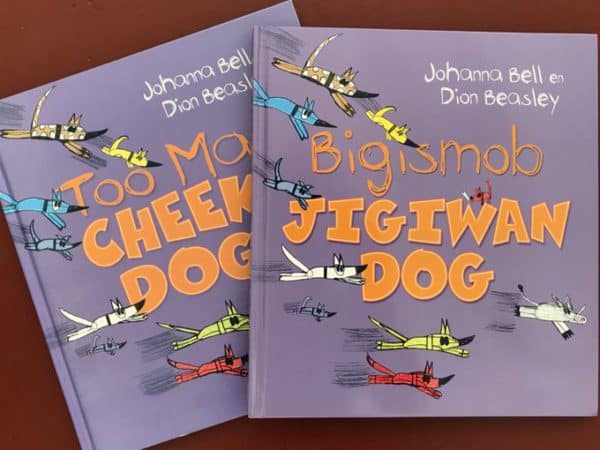 Wen yu dumbat diskain trensleiting, yu garra jinggabat olkain. Wen mela bin jidan garrim det buk kampani gulum Allen & Unwin bla meigim Bigismob Jigiwan Dog mela bin jinggabat det buk shudbi abum Kriol miselp, nomo Kriol en Ingglish mijamet. Laik, wen yu ridim Bigismob Jigiwan Dog, yu gin luk im garrim oni Kriol jeya. Oni la bek yu gin luk det Ingglish wansaid la ola Kriol wed. Im gudwan lagijat dumaji en meigim yu konsentreit gudwei la ola Kriol wed en im larnim yu hau bla rid Kriol gudwei. En bigismob pipul garrim det feswan stori Too Many Cheeky Dogs so yu gin isi luk la im bla rid det seim stori gada Ingglish. Bat mela bin sabi im lilbit hadwan hau mela bin dum Bigismob Jigiwan Dog gada Kriol olawei. Mela sabi im garra bi had bla detmob hu stil lenlen hau bla rid Kriol en had bla detmob hu nomo sabi tok Kriol gudwei.
Mela bin jinggabat gudwei en mela bin wek gada detmob la Allen & Unwin en mela bin meigim sambala risos so ebribodi gin ridim en laigim Bigismob Jigiwan Dog.
Det feswan ting mela bin dum, det Shinaiya bin rikodim mijal ridimbat det buk. Det rikoding imin dum, im album enibodi hu mistimbat eni wed la det buk. Wen yu irrim det rikoding en rid det buk seim taim, ebribodi gin len hau bla rid Bigismob Jigiwan Dog gudwei.
Mela bin meigim najawan risos dumaji mela sabi det speling bla Kriol im trikiwan wen yu nomo bin rid Kriol matj bifo. Hau wi raitim Kriol, imin lagijat fo longtaim na, bat im had bla len dumaji dei nomo dum Kriol matj la skul, lilbit la tjetj en oni sambala femili sabi det speling. So, mela bin meigim 'pronunciation guide' gada detmob la Allen & Unwin. Im meinli bla detmob hu sabi Ingglish en gin rid Ingglish gudwei. Im dalim yu hau wi raidimdan Kriol en hau bla gulum ola wed. If yu ridim dijan en irrim Shinaiya, den ebribodi garra sabi hau bla rid Bigismob Jigiwan Dog en nomo mis.
Luk en daunloudim: Bigismob Jigiwan Dog Pronunciation Guide
Det laswan risos mela bin meigim, im bla ola titja. Im album alabat yusum Bigismob Jigiwan Dog gada alabat biginini la klasrum. Dijan risos im bla biginini hu sabi Kriol en im bla najamob biginini du - maitbi biginini hu jidan la taun o bigwan siti en dei wandi len samting bla wanim dis Kriol. Det risos mela bin meigim - gulum 'Teacher's Tips', im gibit titjamob loda aidiya en ektibidi dei gin dum la klas. Sambala ektibidi im album biginini jinggabat olkain difrendifren langgus. Sambala ektibiti im album biginini jinggabat wanim wi du wen wi dum trensleiding. Najamob ektibidi im askim biginini bla luk gudwei la det Bigismob Jigiwan Dog buk en jinggabat Kriol - luk la sambala wed la det buk en jinggabat wani dei min. Ol detlot ektibidi mela bin pudum jeya, im album tijtamob en biginini laigim en andasten Bigismob Jigiwan Dog, of Kriol in general and lead students to appreciate linguistic diversity and think about language more critically.
Luk en daunloudim: Bigismob Jigiwan Dog Teachers Tips with Pronunciation Guide
Bigismob Jigiwan Dog im redi na en yu gin baiyim brom Allen & Unwin, la bukshop en brom mela oun onlain shop.
Yu laigim luk dijan stori gada Inggalish?
Klikim det 'English' batin jeya antap bla luk dijan seim websait bat olawei gada Inggalish.