This week, Meigim Kriol Strongbala celebrated the release of Bigismob Jigiwan Dog, the Kriol translation of the 2013 hit picture book Too Many Cheeky Dogs, by Johanna Bell and Dion Beasley. Published by Allen & Unwin, Bigismob Jigiwan Dog is creating a little piece of history as the first piece of translated literature in an Indigenous language to be release commercially by a major publisher.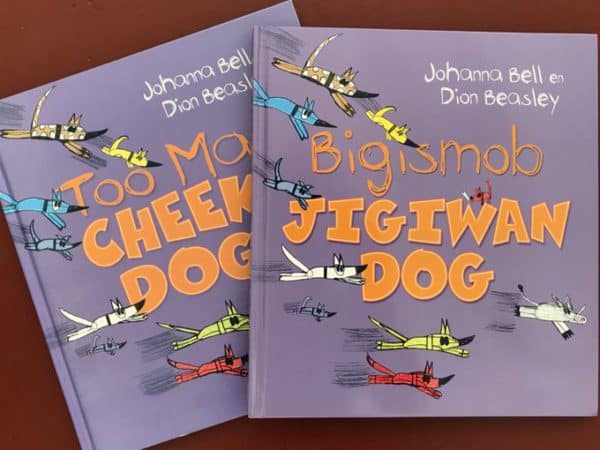 When creating any translation, there are many decisions to make. One big decision we made with Allen & Unwin was that Bigismob Jigiwan Dog should be a Kriol book rather than a bilingual English-Kriol book. That is, when you read Bigismob Jigiwan Dog, each page has only Kriol on it and it is not until the back pages that readers can see the Kriol text lined up with the original English text. The pros of creating the book this way is that it encourages readers to learn to read and enjoy Kriol independently of English. And with about 10,000 copies of the original Too Many Cheeky Dogs already sold, the English version is often not far away if it is needed. The cons of Bigismob Jigiwan Dog being largely a monolingual text is that it can be more challenging for readers who don't know Kriol, or who speak Kriol but aren't yet confident Kriol readers.
With this in mind, Meigim Kriol Strongbala have worked closely with Allen & Unwin to create freely available online resources to support all readers to enjoy Bigismob Jigiwan Dog.
Firstly, our program's youngest staff member, Shania Miller, has created a wonderful reading of the book. Shania's recording will help all readers who might find themselves stumbling over some of the words. Listen along with Shania a few times while reading the book and we reckon everyone will soon be able to read Bigismob Jigiwan Dog perfectly.
Secondly, we know that the Kriol spelling system can sometimes trip people up if they are unfamiliar with it. The Kriol spelling system has been around for ages, but is not really taught anywhere outside of a select few classrooms, some church groups and within some families. So, the pronunciation notes we created with Allen & Unwin are a great guide to negotiating some of the particulars of the way Kriol is written and, along with Shania's recording, will assist all readers to be able to read Bigismob Jigiwan Dog with confidence.
View and download: Bigismob Jigiwan Dog Pronunciation Guide
Lastly, we want to encourage the use of Bigismob Jigiwan Dog in classrooms – and we mean all classrooms – not only those full of Kriol speaking kids and but also ones full of kids who will benefit from knowing more about Kriol and from learning about languages other than English. Our Teacher's Tips provide educators with a raft of activities ranging from broad activities that get students thinking and talking about linguistic diversity and languages other than English, activities that help students think about what translating is like (and have a go if they can!) and activities that help students look carefully at Bigismob Jigiwan Dog itself and think about Kriol, some of the Kriol words in the book and their meanings. As a whole, these activities foster a better understanding and appreciation of Bigismob Jigiwan Dog, of Kriol in general and lead students to appreciate linguistic diversity and think about language more critically.
View and Download: Bigismob Jigiwan Dog Teachers Tips with Pronunciation Guide
Bigismob Jigiwan Dog is currently available through Allen & Unwin, all good bookstores and from our own online store.
Want to read this post in Kriol?
Click the 'Kriol' button above to visit the Kriol version of this website