Septemba 2, 2020 dei gulum Indigenous Literacy Day . Im hepen ebri yiya en imin stat from Indigenous Literacy Foundation. Loda difren ting hepen la Indigenous Literacy Day. Im gud tjens bla wi bla jinggabat ola wek mela en najamob bin dumbat bla album pipul bla len bla rid en rait Kriol gudwei.
Maitbi kapula thausen pipul tok Kriol bat oni fyu len hau bla rid en rait Kriol gudwei. Nomeda pipul bin stat raitrait Kriol 40 yiya ago en dei bin binijimap Baibul du na, not matj tjens bla ola Kriol spika bla len hau bla rid en rait Kriol gudwei. En hadli eni skul dumbat Kriol la klasrum.
Bat yu gin stil faindim help. Lilbitlilbit pipul bin meigimbat difrendifren risosmob en loda Kriol spika bin len det Kriol litrisi gudwei. Bla mela lil progrem gulum Meigim Kriol Strongbala, mela du trai en gibit ola Kriol spika tjens bla len bla rid en rait Kriol gudwei. Mela wandi sheya ola difren wei pipul gin len bla Kriol litrisi.
Kriol bukmob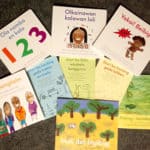 Wen munanga tok bla "Indigenous Literacy" im nomo oni bla Inggalish. Im bla blekbalamob bla len bla rid en rait olabat oun langgus du. Wen yu sabi rid yu oun langgus im album loda difren weis: yu garra len en andasten Kriol mowa, im meigim yu fil praud en strong en im meigim yu laigi ridimbat en raidimbat mowa. Bat yu garra abum samting bla ridrid du! Not matj Kriol buk jeya bla wi bla rid, bat if yu sabi weya bla luk, yu gin faindim. Trai luk ola Bukmob gada Kriol la mela websait. Yu gin faindim jeya:
Bigismob buk dei bin meigim la Barunga bla ola skulkid. Yu gin faindim ola buk la wan websait gulum Living Archive of Aboriginal Languages
Stori bla det Binjari Buk projek detmob la Binjari bin dum gada Indigenous Literacy Foundation. Wanbala buk dei bin dum, im det Moli Det Bigibigi (Molly the Pig)
Kapula Kriol buk dei meigim la Beswik gada Kids Own Publishing.
En melabat na bin wek gada detmob la Allen & Unwin bla pudum wanbala buk la Kriol, gulum Too Many Cheeky Dogs
En bla album pipul bla rid Kriol mowa beta, mela bin wek gada Batchelor Press bla meigim dismob bagai Kriol elfabet posta.
Bla faindat mowa bla ol dismob buk, gu la det Bukmob gada Kriol sekshin la mela websait
Bigismob Jigiwan Dog
Mela bin brabli gudbinji dis yiya wen mela bin luk Bigismob Jigiwan Dogbin gamat. Im Kriol trensleishin bla wanbala feimiswan Ingglish buk gulum Too Many Cheeky Dogs brom Dion Beasley en Johanna Bell. Wen Bigismob Jigiwan Dog bin gamat, imin fes taim eni bigwan buk kampani bin meigim buk gada eni blekbala langgus afta imin Ingglish buk. Det buk bin gamat Jun 2 en mela bin gudbinji bla luk hau pipul laigim Bigismob Jigiwan Dog. Yu gin faindim det buk la loda klasrum na la loda difren komunidi en bigininimob laigim. Trai luk dijan lilwan bidiyo. Im shoum hau matj biginini laigim Kriol buk:
Mela bin abu fan ridridbat Bigismob Jigiwan Dog la Ngukurr FaFT pleigrup 🐾🐾🐾 @AllenAndUnwin @StoryProjects pic.twitter.com/TVeymilvYI

— Meigim Kriol Strongbala (@MeigimKriol) June 16, 2020
Yu gin baiyim Bigismob Jigiwan Dog la difren bukshop en najamob shop la Top En en la mela onlain shop. Mela bin meigim rikoding du en peipa bla album munanga pranaunsim ola wed en yusum det buk la klasrum. Trai luk dijan iya bla ola stori bla det buk: https://meigimkriolstrongbala.org.au/en_au/supporting-resources-for-bigismob-jigiwan-dog/
Ola skul klas 
Ebribodi sabi im brabli impotin bla len Ingglish en Meth la skul. Bat loda tijta sabi du det im impotin bla luk la wanim ola sjuden olredi sabi wen dei gaman la skul. Bla tharran na, im gud bla abum Kriol lesen la skul. Wen yu luk la wanim Nothin Teritri gabmen bin raidim la wanbala stori gulum 'First Languages Maintenance Pathway' karikulyum, im dalim yu det wen sjudenmob dum Kriol la skul im album alabat bla:
sabi mowa bla alabat oun langgus en kaltja
konektimap wanim biginini len la kemp brom alabat femili en wanim biginini len la skul
laigim mijel en fil praud as a Kriol spika
Melabat iya la Meigim Kriol Strongbala, mela wek la Ngukurr Skul ebri dei bla dum Kriol lesen. Bat najamob dum diskain du, laik la Manyallaluk School en Jilkminggan School . Olabat du dum Kriol lesen la olabat skul. Iya la Ngukurr, mela luk bigininimob laigimbat Kriol lesen en len gudwei. Dei laigim len hau bla rid en rait Kriol dumaji dei olredi tok Kriol rait thru.
Kriol onlain
Wen mela dum Kriol litrisi, mela nomo dum oni bukmob en skul klas. Mela sabi ebribodi stak ai la olabat fon du, yusumbat Feisbuk en intanet. Mela trai yusum Kriol la intanet en soshulmidiya du. Mela garrim dijan websait weya im la Ingglish en Kriol en mela garrim soshulmidiya weya mela yusum oni Kriol. Yu gin faindim mela la Feisbuk, Twita en Instagrem en mela oni yusum Kriol jeya. Mela libum Ingglish bla meigim pipul jinggabat en len Kriol litrisi gudwei. Seim taim, mela sherimbat ola gudwan stori bla Kriol hepining ebriweya. Yumob gin bulurum mela la soshulmidiya en prektis ridridbat Kriol gada mela!
Iya la Meigim Kriol Strongbala, mela wandim ebribodi bla abum fan la Indigenous Literacy Day. Mela atjamp bla luk bigismob blekbala ebriweya ridrid strongbalawei!
Yu laigim luk dijan stori gada Inggalish?
Klikim det 'English' batin jeya antap bla luk dijan seim websait bat olawei gada Inggalish.