September 2, 2020 is Indigenous Literacy Day – an annual event created by the Indigenous Literacy Foundation. A number of events are planned for Indigenous Literacy Day and it's a great opportunity for us to celebrate some of the work we and others have been doing to support and increase literacy in Kriol – the first language of several thousand people across Northern Australia.
While Kriol has thousands of speakers, not many get the chance to learn to read and write Kriol properly. Even though Kriol has been written for over forty years and even has a complete Bible, there is little training for people who want to become literate in Kriol and it does not feature heavily in schools in most Kriol-speaking communities.
But there is help: over the years, a good number of resources have been created and a good number of Kriol speakers have had the chance to develop strong literacy skills. Our program, Meigim Kriol Strongbala, aims to provide further opportunities to develop Kriol literacy and we're happy to share some of the ways this has been happening.
Kriol Books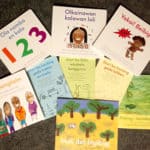 Indigenous literacy is not just about Indigenous people improving English literacy skills. It is also about Indigenous people improving literacy in Indigenous languages and the languages we grow up speaking. There are many benefits to becoming literate in your first language: it deepens your understanding of your home language and culture, fosters strength, pride and identity, and makes reading and writing more accessible and engaging. Yet for Kriol speakers to improve Kriol reading skills, you need something to read. While there are not a lot of Kriol books around, there are plenty if you know where to look. Check out the Books in Kriol section on our website and you'll find:
Dozens of school-based readers made by Barunga School, now downloadable at the Living Archive of Aboriginal Languages
Links and info to the Binjari Buk project by Indigenous Literacy Foundation, including the much loved Moli Det Bigibigi (Molly the Pig)
A couple of books published by Kids Own Publishing that arose from community projects in Beswick community
And our program worked with publishers Allen & Unwin to produce a Kriol version of the popular English picture book Too Many Cheeky Dogs
And to help support Kriol literacy development we also worked with Batchelor Press to create these brilliant Kriol alphabet posters.
For more details on all these Kriol books, visit our Books in Kriol section
Bigismob Jigiwan Dog
We were thrilled earlier in the year to see the release of Bigismob Jigiwan Dog, a Kriol translation of the popular picture book Too Many Cheeky Dogs by Dion Beasley and Johanna Bell. It was the first time a major publisher (Allen & Unwin) had commercially released an Indigenous language translation of an existing English title. Released on June 2, we've been thrilled with the reception of Bigismob Jigiwan Dog. It can now be found in many classrooms across many Kriol speaking communities and is being enjoyed by many. This small snippet shows just how valuable and engaging reading in kids' first languages can be:
Mela bin abu fan ridridbat Bigismob Jigiwan Dog la Ngukurr FaFT pleigrup 🐾🐾🐾 @AllenAndUnwin @StoryProjects pic.twitter.com/TVeymilvYI

— Meigim Kriol Strongbala (@MeigimKriol) June 16, 2020
Bigismob Jigiwan Dog is available now at bookstores, selected Top End retailers and on our online store. We also have made available an audio recording, pronunciation guide and teacher's guide to help non-Kriol speakers enjoy the text. Full details can be found here: https://meigimkriolstrongbala.org.au/en_au/supporting-resources-for-bigismob-jigiwan-dog/
School programs 
No-one disputes the key role schools play in delivering crucial areas of learning like English and Maths. Yet it is also widely understood that a great education builds on what students already know. This is where first language programs like Kriol programs for Kriol-speaking students come in useful. As Northern Territory's own documents state in the First Languages Maintenance Pathway curriculum, Kriol programs help students to:
deepen their knowledge, understanding and abilities in their home language and culture
build connections between school learning and the knowledge and ways of organising and talking about the world that they are learning at home
feel strong about themselves as speakers and members of the language group
Meigim Kriol Strongbala works extensively with Ngukurr School to deliver Kriol programs for all its students but we're not alone. Other schools like Manyallaluk School and Jilkminggan School are also working to deliver Kriol programs for their Kriol speaking students. In Ngukurr, we're noticing good engagement and skills development in our Kriol programs and see that it's engaging and satisfying for the students to be learning literacy in a language they already speak.
Kriol online
Our work with Kriol literacy doesn't end with books and school programs. We are acutely aware that thousands of Kriol speakers are on social media and the internet every day. Meigim Kriol Strongbala promotes the use of Kriol on new media through both its bilingual website and social media. We run accounts on Facebook, Twitter and Instagram and we use only Kriol on there, in an effort to promote Kriol literacy and model good Kriol writing, all while sharing lots of cool stuff that is happening for Kriol across Northern Australia. Feel free to read, follow, share and practice your Kriol literacy with us!
Here at Meigim Kriol Strongbala, we wish everyone a great Indigenous Literacy Day and look forward to seeing more success and achievement in Indigenous literacy across the country!
Want to read this post in Kriol?
Click the 'Kriol' button above to visit the Kriol version of this website