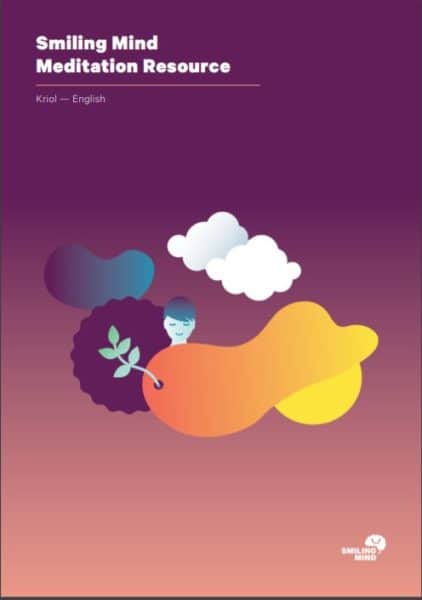 We've put this in the video resources section when it isn't a video but this is too good not to share. In 2019, a not-for-profit app called 'Smiling Mind' created four audio meditations in Kriol. Smiling Mind's app aims to improve mental health and well-being, especially among school children. The meditations allow kids to calm and focus their minds and heaps of other benefits.
The Smiling Mind app already had a heap of English-audio meditations but in 2019 added meditations for three Indigenous languages, including Kriol. You can read an ABC Story about it here. The Kriol meditations are already been used by individuals and in classrooms, with positive results and feedback.
There are four Kriol meditations available, offered in a sequence. Each lasts between 5-10 minutes:
Det Traburlin Baburl Stori (Bubble Journey)
Belly Breathing
Faindimbat Ola Saunmob (Exploring Sounds)
Jinggabat Hau Yu Garra Mub (Mindful Movement)
You can review the booklet provided by Smiling Mind, which includes the full text and translations of each meditation and lots of other useful tips and info. Download the booklet here: SmilingMind Kriol booklet
To start using the Smiling Mind app and its Kriol meditations, here's how: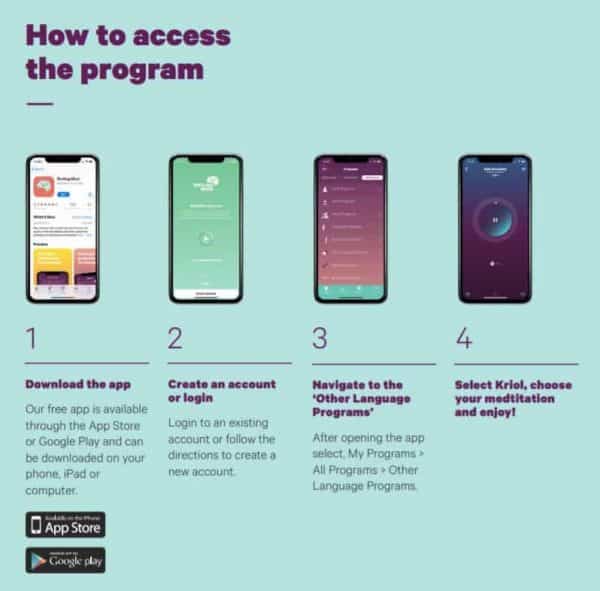 If you are using these meditations yourself or in your classroom, we'd love to hear about it.