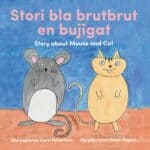 Carol Robertson, at 65 years of age, has lived a long, full life in the remote community of Ngukurr in Southern Arnhem Land. A community leader and matriarch with 6 children, 13 grandchildren and one great-grandchild, Carol has, among other things, helped to translate the bible into Kriol, been a long-term local church leader and eventually became a priest in the Anglican Church. This year, a new achievement is being added to the list – becoming a published author! Not only that, but Carol is now one of only a few people in the world to have authored and published a book in Kriol.
Carol's book, Stori bla Brutbrut en Bujigat (Story about Mouse and Cat) was released in February 2023 but was actually drafted back in 2019, when she started work with Meigim Kriol Strongbala as our program's first language worker. The Indigenous Literacy Foundation, which has already produced a series of amazing Kriol books with the Binjari community, read Carol's draft and then helped us to develop it into a proper book. And now we are proud to present to the world Stori bla Brutbrut en Bujigat – a fun little yarn about what happens when a mouse and a cat go out looking for food on a dark night.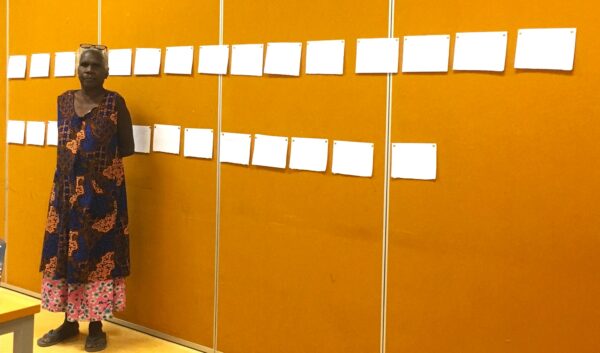 Key to bringing the book to life is Karen Rogers, who came on board as the book's illustrator. Karen is a senior artist at Ngukurr Arts and when creating the playful illustrations for Bujigat en Brutbrut, she drew on her own experience of publishing her self-illustrated autobiographical picture book, Main Abija (My Grandad), published by Allen & Unwin in 2021. Karen's lively watercolour illustrations will delight young readers.
One of the final steps in preparing Stori bla Brutbrut en Bujigat for release was to create an audio version. Carol chose 28-year-old Anton Rami for the task who is no stranger to being in front of a mic as he also plays with prominent local rock band Lonely Boys. Anton's recording allows readers to hear the Kriol while reading along, perfect for those who are learning Kriol or still becoming confident Kriol readers. The audio is linked to in the book via a QR Code and also downloadable via our Soundcloud page.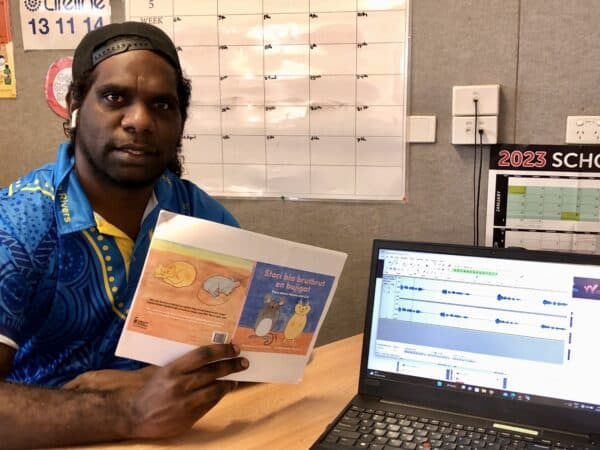 With the release of Stori bla Brutbrut en Bujigat it has become one of only a handful of commercially-available books in Kriol, a growing language spoken by around 20,000 people across the Northern Territory and Western Australia. The book is fully bilingual with Kriol and English on each page. As Kriol is Carol Robertson's first language, she wrote the text in Kriol first with English translations added later to assist other readers.
Kriol is heavily based on English but has significant differences in sounds, vocabulary and grammar so that Kriol is regarded as a language of its own. You can see this even in the title of Stori bla Brutbrut en Bujigat. The word for 'mouse' – brutbrut – is actually a Kriol word local to Ngukurr, originally coming from local First Nations languages like Marra and Ngandi. In those languages, the word 'burudburud' is used to refer to different kinds of native mouse-like marsupials – you can even find examples of  'burudburud' in the Atlas of Living Australia. Bujigat – the word for 'cat' – is a Kriol rendering of the English word 'pussycat' and is widely used by Kriol speakers and beyond. You can hear Geoffrey Gurrumul Yunupingu sing about 'budjikit' (a Yolngu spelling of the same word) in his song Marrwurrumburr.
Stori bla Brutbrut en Bujigat is now available  for pre-order and purchase on our website (Hardcover, $24.99) and you can check out other Kriol titles on our online store.
Stori bla Brutbrut en Bujigat is available now from bookstores and our online store! 
Want to read this post in Kriol?
Click the 'Kriol' button above to visit the Kriol version of this website.