In Northern Australia, as many as 1 in 10 Aboriginal people carry the Hepatitis B virus and for many people it can become serious and even cause liver failure or liver cancer. Menzies School of Health Research in Darwin has created an interactive app, called the Hep B Story, to help people in remote communities reduce the impacts of Hep B in their lives and we're proud to share the news that the Hep B Story is now available in Kriol too!
Menzies School of Health Research created the Hep B Story app in English several few years ago and then went about making the app in different Indigenous languages so that the information can be accessed by many more Territorians. Menzies approached Meigim Kriol Strongbala to help create the Kriol version and this complex task was months in the making, finally completed this month!
The app guides Kriol speakers through various aspects of Hepatitis B – how it is transmitted, how it affects the liver and our health, how to test, treat and manage Hep B and there is a section for women, providing information on how to manage Hep B including when pregnant. The app also includes a game, where users help a man with Hep B have his daily tablets so he doesn't get sick!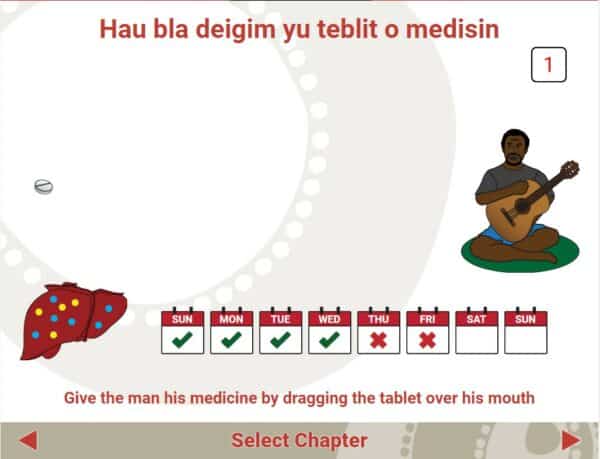 Kriol is actually the tenth language that the Hep B Story has been created in! The others are English, Yolngu Matha, Pitjantjatjara, Tiwi, Burarra, Kunwinjku, Arrernte, Warlpiri and Anindilyakwa.
The Hep B Story app is free to download on Google Play and the Apple App Store and can also be accessed on computers and laptops via the web version at https://hepbstory.menzies.edu.au/.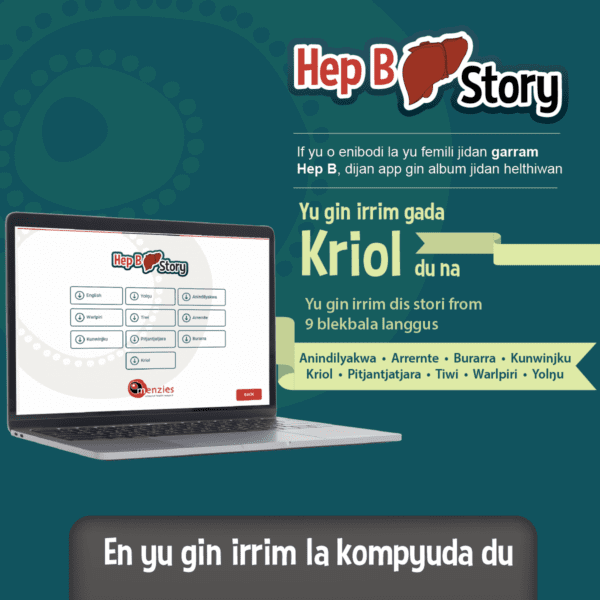 Want to read this post in Kriol?
Click the 'Kriol' button above to visit the Kriol version of this website.