La Noth Ostreilya, loda blekbala gada det Hepatitis B bairis. Det Hep B bairis im gin bi siriyis ting en meigim yu liba sikwan, nogud o maitbi gibit yu liba kensa. La Dawin, detmob la Menzies School of Health Research bin meigim app na, bla pudum la yu fon. Det app im kol "Hep B Story" en im album blekbala la ol difren komunidi so dei gin lib gudwei gada Hep B. Mela brabli gudbinji bla dalim yumob, det Hep B Story im la Kriol du na!
Detmob la Menzies School of Health Research bin meigim det Hep B Story gada English lilbit longtaim na. Brom deya, dei bin trensleidim det app la difrendifren blekbala langgus so mowa en mowa pipul la NT gin gajimap det infameishin. Detmob la Menzies bin askim melabat la Meigim Kriol Strongbala bla dum det Kriol wan. Imin bigis job en afta longtaim, im redi na!
Det Hep B story App, im dalim yu olkain infameishin bla Hep B - yu pipul gedim det bairis, wanim im du la yu liba, hau yu shud abum blad tes en hau yu gin jidan gudwei gada Hep B. Dei bin pudum speshul eriya bla wumen du, gada infameishin laik wanim bla du wen yu bundubundu en yu garram Hep B. Det Hep B Story app gada lilwan geim du - yu garra album wan men dringgim im teblit ebri dei so im kaan get sik.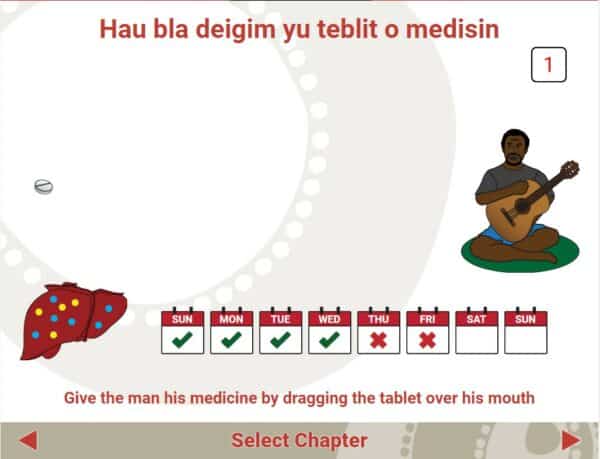 Dei bin pudum dis Hep B Story app la loda difren langgus. Kriol in namba ten langgus! Detmob najamob langgus im: Ingglish, Yolngu Matha, Pitjantjatjara, Tiwi, Burarra, Kunwinjku, Arrernte, Warlpiri en Anindilyakwa.
Det Hep B Story im friwan. Yu gin pudum la yu fon thru det Google Play o la App Store la Apple phone. Yu gin luk la eni kompyuta o leptop du if yu gu la https://hepbstory.menzies.edu.au/.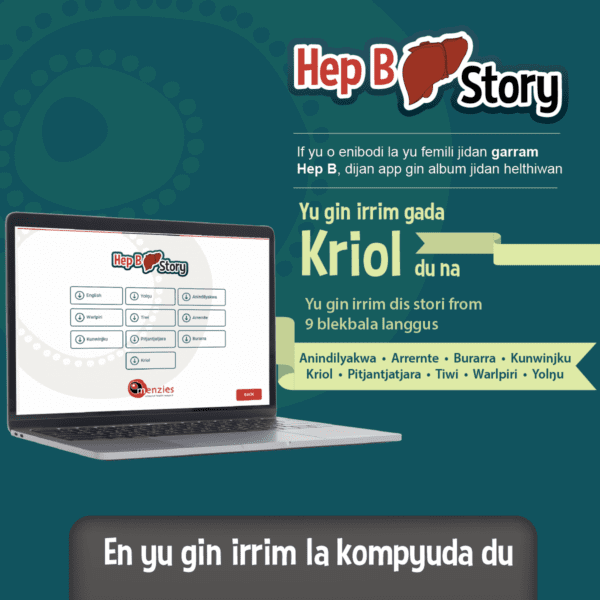 Yu laigim luk dijan stori gada Inggalish?
Klikim det 'English' batin jeya antap bla luk dijan seim websait bat olawei gada Inggalish.