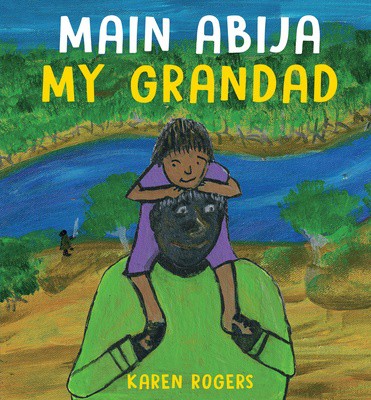 Today sees the release of Main Abija – My Grandad, a new autobiographical picture book, written and illustrated by Karen Rogers from Ngukurr. Main Abija is a tribute to a much-loved grandfather, and a celebration of Aboriginal culture, country and the circle of life. The story is told in Kriol and English.
'Dijan buk gada ola memri ai bin abum gada main abija from wen ai bin lilgel til imin libu wi. Imin titjim mi loda tings bla koltja en bla kantri. Mi hepi ba pasim det stori la main femili en bla pudum la dis buk.'

'This book has the memories I had of my grandfather from when I was small until he left us. He taught me many things about culture and country. I'm happy to pass this story on to my family and to put it in this book.'
With stunning artwork and a lyrical text in Kriol and English, celebrated Ngukurr Elder and artist Karen Rogers evokes the world of her childhood in a remote part of the Northern Territory. Her story is a beautiful celebration of a special relationship, showing how culture is passed on from generation to generation.
'My grandfather touched my heart,' says Karen. 'I hope everybody can have a chance to love one grandparent that way. To me, this book is remembering the knowledge he taught me about my culture, about what to eat and where to find that water. I'm happy to have that knowledge. I take that with me.
'Death is important in our community. I want kids to think about that and talk about that. I also want my kids to learn to read English and Kriol. It is important to me to write in my language … I hope anyone who reads it will think about their grandparents. In that way it is the same, black fella way and munanga way.'
Main Abija is Karen Rogers' first picture book which she wrote and illustrated herself. Karen Rogers comes from Ngukurr and speaks both Kriol and English. Her artwork comes from cultural knowledge and her feelings for the land. She lives with her family in Ngukurr and has five children, eight grandkids and one great-grandson.
Karen studied Visual Art at Batchelor Institute, inspired by her grandmother and sisters, who were all artists. She works with textiles, glass and canvas and is currently working on animation. She loves learning new skills and different art forms. In 2018, she was artist in residence at Glassworks, Canberra, and in 2020 she received a Creative Fellowship from Arts NT.
Main Abija is published by Allen & Unwin, the award-winning major publisher who also released Bigismob Jigiwan Dog in 2020, the Kriol translation of Too Many Cheeky Dogs. Here at Meigim Kriol Strongbala we are thrilled to see a new bilingual book production that features Kriol. With dozens of classrooms full of Kriol-speaking students across many schools, having high-quality literature and books in students' first language can make a real difference to education.
Reviews are already enjoying Main Abija too:
'The pictures in Main Abija … are vibrant and joyful … It's a book about kinship and keeping familiar rituals in the family, out of respect and love.' – Thuy On, Books+Publishing

'Written in both Kriol and English the learning opportunities are so rich, and not confined to just the cross-cultural perspective. A shared reading will easily springboard into geography, discussion of family dynamics, memories, grandparents and more' – Sue Warren, Just So Stories
Main Abija was officially released on March 16, 2021. Publisher Allen & Unwin has free Teaching Tips available on their website as well as a free audio reading by the Karen Rogers herself. The book also has a QR Code that links readers straight to the audio version via their phone.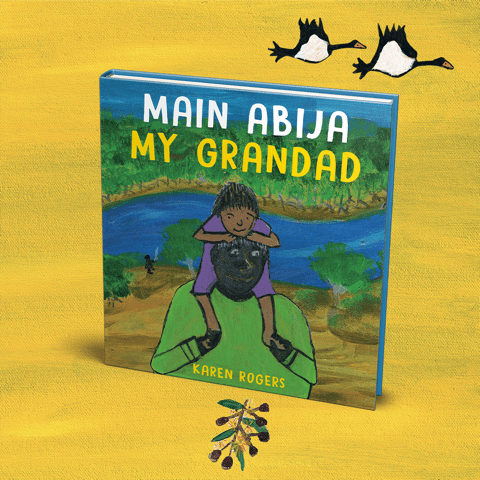 Main Abija is $24.99 and available from all good bookstores, on our online store and locally in the Katherine Region at:
Mimi Aboriginal Art & Craft (Katherine)
The Finch Cafe (Katherine)
Top News Katherine
Godinymayin Yijard Rivers Arts & Culture Centre (Katherine)
Want to read this post in Kriol?
Click the 'Kriol' button above to visit the Kriol version of this website