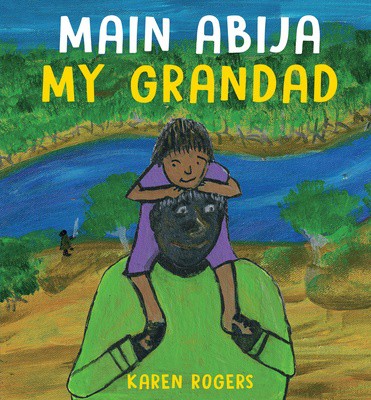 Tudei, wanbala nyuwan bin gamat gulum Main Abija (My Grandad). Im brom Karen Rogers brom Ngukurr en im bla im ounwan stori garram ol im oun pitja. Main Abija im tok bla Karen abija, wanbala olmen imin laigim detmatj en hau imin lernim im bla koltja, kantri en laif. Det buk im garram Kriol en Ingglish.
'Dijan buk gada ola memri ai bin abum gada main abija from wen ai bin lilgel til imin libu wi. Imin titjim mi loda tings bla koltja en bla kantri. Mi hepi ba pasim det stori la main femili en bla pudum la dis buk.'

.
Garram loda purdiwan pitja en gudwan stori gada Kriol en Inglish, Karen im sheya stori brom wen imin yanggel en imin oldei gugubat la bush. Bla Karen stori im gudwei bla femili en hau koltja garra kipgon olagijawan.
'Bla main abija imin iya la main hat', Karen bin tok. 'Ai houp eberribodi gin faindim abija, gagu o amuri o abuji weya im laigim im detmatj. La mi, dijan buk im meigim mi jinggibat eberrijing imin larnim mi bla koltja, bla bush daga, hau bla faindim wada, lagijat. Mi hepi ai garrim det nolij du na. Ai garrim olagijawan.
Wen sambodi pasawei, im importen taim la wi komunidi. Ai wandi bigininimob bla jinggibat than en toktok bla than. En ai wandim main biginini bla len bla rid Ingglish en Kriol. Im importen la mi bla rait gada main oun langgus ... Ai houp enibodi hu garra rid dijan buk gada jinggibat alabat grenperens. Lagijat na, dijan buk im bla blekbala en bla munanga du.'
Main Abija is Karen Rogers' first picture book which she wrote and illustrated herself. Karen Rogers comes from Ngukurr and speaks both Kriol and English. Her artwork comes from cultural knowledge and her feelings for the land. She lives with her family in Ngukurr and has five children, eight grandkids and one great-grandson.
Karen bin dum at kos la Batchelor Institute. Imin gajim det aidiya brom im babamob en grenmatha hu bin atis du. Karen im dum olkain atwek: klos, glas, peinting en im dum katun du. Im laigim lenlen nyu skils en olkain at staiyil. La 2018, imin atis la Kenbra la Glassworks en la 2020 im gajim skolaship brom Arts NT.
Main Abija im from det buk kampani Allen & Unwin, det bigiswan buk kampani hu bin meigim Bigismob Jigiwan Dog du, la 2020. Too Many Cheeky DogsIya la Meigim Kriol Strongbala mela laigim brabliwei wen nyuwan buk gamat gada Kriol. Dumaji bigismob biginini la loda difren skul tok Kriol en im importen bla alabat bla abum gudwan buk la alabat klasrum gada alabat oun langgus.
Sambala munanga bin raitim lilwan stori en olredi tok dei laigim Main Abija du:
'The pictures in Main Abija … are vibrant and joyful … It's a book about kinship and keeping familiar rituals in the family, out of respect and love.' [Ola pitja la Main Abija ... ol braitwanbraitwan en hepiwan ... Dijan buk im tok bla femili en bla pasimon nolij bla shoum lab en rispek'.] – Thuy On, Books+Publishing

'Written in both Kriol and English the learning opportunities are so rich, and not confined to just the cross-cultural perspective. A shared reading will easily springboard into geography, discussion of family dynamics, memories, grandparents and more' ['Gada Kriol en Ingglish mijimet, yu gin len loda ting brom dijan buk, bat nomo oni bla blekbala laif. Wen yu rid dijan buk yu gin len bla kantri, femili, ola memris wi abum, lagijat'] – Sue Warren, Just So Stories
Main Abija bin gamat Matj 16, 2021. Det buk kampani Allen & Unwin bin pudum friwan Teaching Tips la alabat websait en yu gin irrim friwan rikoding weya Karen ridridbat im stori imself. Det buk im garrim QR Code du weya yu gin yusum yu fon en im jendim yu streit la det rikoding.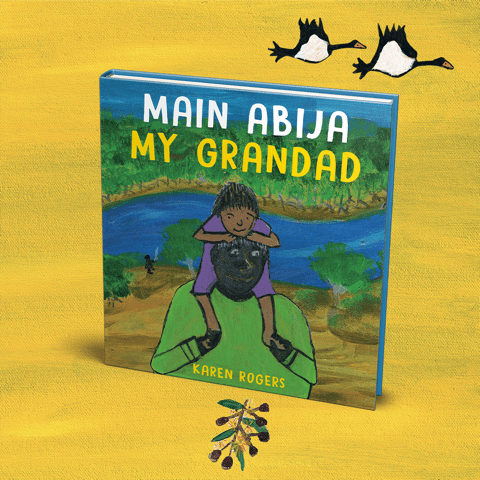 Main Abija im kos $24.99 en yu gin gajim brom bukshop o la mela onlain shop o la dismob shop la Katherrain:
Mimi Aboriginal Art & Craft (Katherine)
The Finch Cafe (Katherine)
Top News Katherine
Godinymayin Yijard Rivers Arts & Culture Centre (Katherine)
Yu laigim luk dijan stori gada Inggalish?
Klikim det 'English' batin jeya antap bla luk dijan seim websait bat olawei gada Inggalish.