If you grew up speaking English, you would have learned our 'Now I know my ABC' alphabet song at a young age and never forgot it. It might be hard to imagine, but lots of languages don't have a song like that at all! Well, that's now changed for Kriol speakers who have a new resource to help them with their Kriol literacy – a catchy alphabet song that even has an fun video to go with it! Check it out:
The story behind the song and video started a few years ago when Meigim Kriol Strongbala worked with Batchelor Press to create a freshly-designed Kriol Elfabet Poster. The Kriol Elfabet Poster has become a super-useful resource to help students at Ngukurr School and beyond to improve their Kriol literacy. Batchelor Press later turned this resource into a set of flashcards as well as a wall frieze – all available on their online store. You can read more about the words we used on the Kriol Elfabet Poster here: https://meigimkriolstrongbala.org.au/en_au/resource/kriol-elfabet-poster/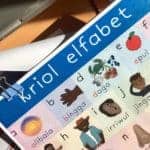 Then, in 2021, Ngukurr School teacher Melevea Huihui had the idea of turning the Kriol Elfabet poster into a song. The result was so good that the crew from NT Music School worked with Melevea to record the song and produce a video all featuring students from Ngukurr School. The video is now done and recently appeared on NT Music School's VAMPtv program (Episode 155). Thank you to Huni Bolliger and others at NT Music School and Melevea Huihui and others at Ngukurr School for producing this great resource. Well done to all!
Want to read this post in Kriol?
Click the 'Kriol' button above to visit the Kriol version of this website