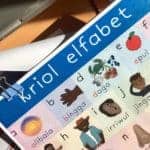 When we started the Meigim Kriol Strongbala project earlier this year, one of our main goals was to create more education and literacy resources for Kriol. Without high-quality resources, Kriol struggles to be seen as a legitimate language of education. And so this week we are incredibly pleased to announce that our fresh and fancy-looking Kriol Elfabet poster is now available to purchase through Batchelor Press! Link: http://batchelorpress.com/node/387.
We think the design Batchelor Press has done is great – bright illustrations for a neat selection of words to show off each of Kriol's one-letter and two-letter sounds. Sizes available are A3, A2 and A1. See the page about the Kriol Elfabet poster in our resources section for more detail on the poster content.
We're looking forward to seeing these on walls throughout Kriol country in 2020! Contact Batchelor Press to order: http://batchelorpress.com/node/387 and please spread the word.