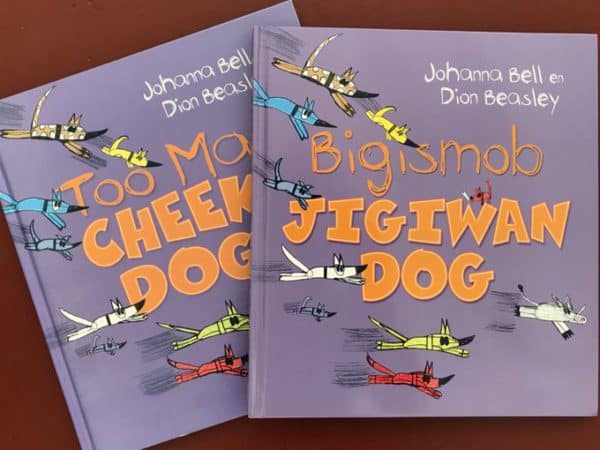 Sabi las yiya wen Koronbairis bin fes gaman en wi bin ol guwin la lokdaun? Wal det taim mela bin hepi du, dumaji Bigismob Jigiwan Dogbin gamat. Im Kriol trensleishin bla det Ingglish buk Too Many Cheeky Dogs, det buk ebribodi bin laigim brom Dion Beasley en Johanna Bell. Wen Bigismob Jigiwan Dog bin gamat, imin nyuwan ting - fes taim eni bigwan buk kampani bin wandi pudum Ingglish buk la eni blakbala langgus bla selimbat.
Tharran bin las yiya na, en brom det taim, loda ting bin hepin!
Ola Jigiwan Dog laibala na!
Wanbala gudwan ting bin hepin oni dis manth na - Bigismob Jigiwan Dog came to life! Well sorta. NT Music School got together with brilliant Ngukurr educator Marlene Andrews to create an animated video version of the book, complimented by a fun and engaging reading by Marlene. It's fantastic to see the book come to life and it's already a hit in classrooms.
Dijan Jigiwan Dog bidiyo im gaman brom Rising Star , wanbala shou bla bigininimob la ola bush komunidi iya la NT. Dis bidiyo im nomo det feswan bidiyo Rising Star bin meigim gada Kriol - yu gin luk la det najawan bidiyo bla det buk Yakai Beibigel iya en yu gin luk det Bigismob Jigiwan Dog bidiyo iya andanith:
Bigismob Jigiwan Dog gu la Katherrain en Dawin
Afta det Krounabairis lokdaun, wi bin lau bla gu la taun en mela la Meigim Kriol Strongbala bin laki en dei bin jendim la tubala festibul. Det feswan imin gudwan lilwan festibul la Katherrain. Imin litrisi festibul en detmob la KICS (Katherine Isolated Childrens Services) bin oganaisim. La det festibul, mela bin ridrid Bigismob Jigiwan Dog la bigismob pipul en najamob bin jeya du garram olabat buk weya dei bin meigim.
Det Katherrain festibul bin gudwan en im album meigim mela redibala bla bigiswan festibul - det 2020 NT Writer's Festival, weya det NT Writers Centre bin oganaisim. Mela bin gu raitap la Dawin en tok jeya. Mela tok bin kol Translation and Two-Waysen mela bin tok bla Kriol, hau mela bin trensleitim Too Many Cheeky Dogs Bigismob Jigiwan Dog la Kriol en wotfo im impordin bla abum diskain buk la Kriol. Bla mela tok, imin ful ob pipul en dei bin ol laigim. Mela bin tok Kriol en Ingglish la olabat jeya.
Afta det tok, NT Writers Centre bin askim mela bla rait stori bla olabat magisin, gulum 'Imprint', en jeya mela bin tok igin bla wotfo im impordin bla meigim Kriol buk en wotfo im impordin bla dum trensleishin la blekbala langgus. En dei bin pudum mela la wanbala SBS stori en mela bin tok mowa jeya bla mela wek en aidiya. Yu gin luk det stori iya: "While many Indigenous languages are disappearing, one has more speakers than ever".
"For the younger generation, Kriol is the only language that we know fluently so it's very important that we introduce Kriol to the community at school. It's the first language that I spoke so it's a big part of my identity." – Shania Miller – SBS Online
Jendimbat Bigismob Jigiwan Dog dijei, tharrei en ebriweya
Det najawan gudwan ting bin hepin afta Bigismob Jigiwan Dog bin gamat, im lugunat hau det buk bin gu ol oba Ostreilya! Wen det buk bin fes gamat, mela bin jinggabat miselp "maitbi pipul garra baiyim dijan buk, maitbi najing". Bat afta imin gamat, dei bin selim ola kopi dei bin meigim en detmob la Allen & Unwin bin lafta meigim mowa. Mela bin gedashok en mela tok thenggyu la detmob lilwan shop en kefei hu selimbat det buk bla mela. Dismob na selimbat det buk bla mela la Katherrain: Finch Cafe, Mimi Arts, Top Didj, Top News en Godinymayin Yijard Rivers Arts en Culture Centre (GYRACC). Thenggyumob!
View this post on Instagram
Mela bin setimap bla mela onlain shop du en selimbat det buk Bigismob Jigiwan Dog jeya, jendimbat buk ol oba Ostreilya.
Meigimbat Bigismob Jigiwan Dog en den luk wanim bin hepin afta, imin brabli intristing la mela en meigim mela gudbinji. Thenggyu la ebribodi hu bin baiyim det buk, pudum la klasrum en gibit mela sapot. Thenggyu la Allen & Unwin bla gibit mela tjens bla dum en thenggyu la Johanna Bell en Dion Beasley dumaji det dubala bin laigim det aidiya bla pudum bla dubala buk la Kriol.
Wanim hepin neks?
Wanbala gudwan ting bin hepin, im nomo bin brom mela o bla Kriol: afta detmob la Allen & Unwin bin luk hau pipul bin laigim Bigismob Jigiwan Dog, dei bin dum najawan trensleishin bla det buk. Im la Pitjantjatjara na, wanbala blekbala langgus dei tok ol oba la deset eriya la NT en Sauth Ostreilya. Det Pitjantjatjara buk im kol Papa Mawal-mawalpa Tjutaen imin gamat dis manth. Detmob la Iwiri Aboriginal Corporation bin dum det trensleishin en dei bin dum friwan rikoding gada Rhoda Tjitayi. Yu gin luk iya: https://www.allenandunwin.com/browse/books/childrens/Too-Many-Cheeky-Dogs-Papa-Mawal-mawalpa-Tjuta-Johanna-Bell-illustrated-by-Dion-Beasley-9781760526696
En bla mela, mela lilbit jigiwan askimbat difrendifren buk kampani bla meigim mowa buk gada Kriol. Maitbi sun!
Bigismob Jigiwan Dog im la ola gudwan bukshop en la mela onlain shop. Yu gin faindim difren risos iya du laik pronunciation guide, teachers guide en rikoding: Risos bla album pipul ridim Bigismob Jigiwan Dog gudwei.
Yu laigim luk dijan stori gada Inggalish?
Klikim det 'English' batin jeya antap bla luk dijan seim websait bat olawei gada Inggalish.