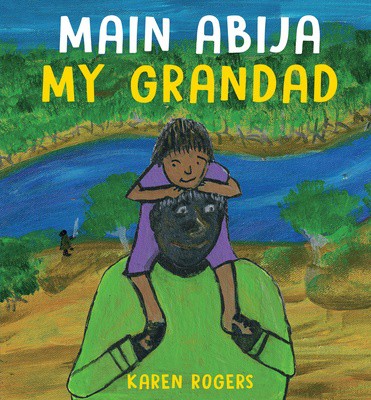 News has reached us that in March 2021, a new Kriol book will released and we can't wait to see it.
Main Abija (My Grandad) is an autobiographical picture book by Ngukurr artist – and now writer too – Karen Rogers. In Main Abija, Karen shares the personal story of her abija, what he taught her, what he means to her and what it means to have and to lose a beloved grandparent. 'Abija' is a very common word in Roper Kriol meaning mother's father and 'main' is pronounced the same as the English word 'mine'.
'Dijan buk gada ola memri ai bin abum gada main abija from wen ai bin lilgel til imin libu wi. Imin titjim mi loda tings bla koltja en bla kantri. Mi hepi ba pasim det stori la main femili en bla pudum la dis buk.'

(This book has the memories I had of my grandfather from when I was small until he left us. He taught me many things about culture and country. I'm happy to pass this story on to my family and to put it in this book).
Karen also provides the gorgeous illustrations for the book, drawing on her experience and training as a visual artist and designer. Karen currently designs and paints for Ngukurr Arts (see her work and profile here) and her move into children's literature was a logical step to take. The book is bilingual with Kriol and English text featured on each page, alongside Karen's lovely illustrations.
Main Abija is due for release in March 2021 and will be published by major publisher Allen & Unwin, meaning it will be available through all bookstores and also via us here at Meigim Kriol Strongbala. Allen & Unwin were also the publishers behind Bigismob Jigiwan Dog, the Kriol translation of Too Many Cheeky Dogs, so it is great to see a major publisher continue to invest in literature in Indigenous languages.
Want to read this post in Kriol?
Click the 'Kriol' button above to visit the Kriol version of this website