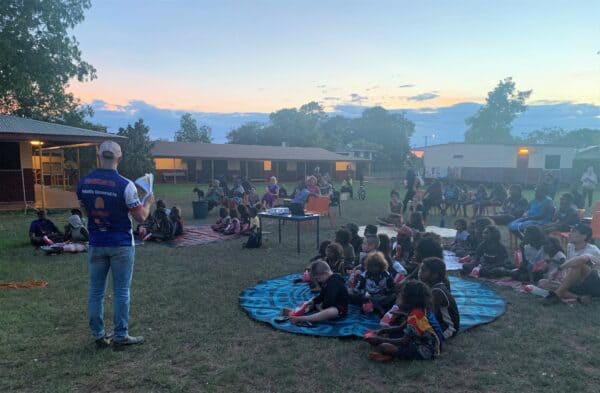 Maitbi yu neba bin luk katun gada Kriol bifo. Wal wi garrim na! Ngukurr Skul en mela iya la Meigim Kriol Strongbala bin jis shoum Lil J & Big Kas gada Kriol. Imin fes taim bla enibodi bla luk en ebribodi bin laigim! Imin bigis wek bla tresnleidim, dum ola rikoding en meigim dis tubala katun. Wi bin shoum la big skrin, sangudan taim la Ngukurr Skul gada maitbi 100 pipul jeya bla luk - en dagat friwan popkon du!
Mela bin shoum det tubala nyuwan katun bla det Lil J & Big Kas en imin fes taim det katun bin la Kriol! Bla meigim det tubala katun, mela bin gajim sambala bigwan biginini brom Ngukurr Skul en dei bin wek bla kapula manth, trensleidimbat det tubala stori neim "Bigiswan Trip La Riba" en "Sineik Ai". Det tubala shou pat ob det 3rd sisan bla Lil J & Big Kas. Brom jeya, dei bin jandim ekspetwan pipul brom Savage Films la Melbin bla lugubat pipul brom Ropa bla dum ola rikoding. Det, afta kapual manth imin redi na! Imin speshul ting bla shoum det katun la Ropa dumaji no enibodi bin luk det katun bifo - iben gada Ingglish. Det nyuwan katun, dei stat shoimbat gada Ingglish la NITV Fraidei Disemba 17, 7:30pm.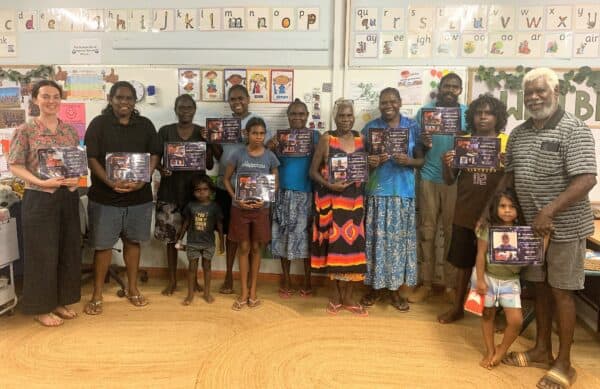 Gulijap ebribodi hu staring la det Kriol katun bin jeya bla det "world premiere" la Ngukurr. Dei bin gajim satifikit en USB gada det tubala katun. En la Ngukurr Skul, biginini stakai la det katun ebri dei na! Angelina Joshua im Big Kas la det Kriol katun en maitbi sambala munanga sabi im brom bifo wen imin staring la det SBS dokyumentri gulum My Grandmother's Lingo. Imin brabli gudbinji afta imin luk det tubala Kriol katun, "Imin gudeswan! Ai bin leigi det matj."
En Barda bin tok ola biginini bin laigim du en dei bin laigi irri Kriol, speshili dumaji imin saun brabliwei laik bigininimob gin:
Dei bin reken im dijmawan en dei bin gudbinji dumaji dei bin irri Ropa Kriol – hau alabat tok.

[They thought it was excellent and they were happy because they heard Roper Kriol – how they speak it.]
Lil J & Big Kas gada Kriol, imin gaman brom Meigim Kriol Strongbalaweking gada Ngukurr Skul en detmob hu meigim det katun Lil J & Big Kas . Ebribodi gin luk neks yiya la 2022 wen dei garra pudum det katun la SBS on Demand en ABC iView. Detmob hu meigim Lil J & Big Kas bin brabli gudbinji wen dei bin irrim stori brom wen mela bin shoum la Ngukurr.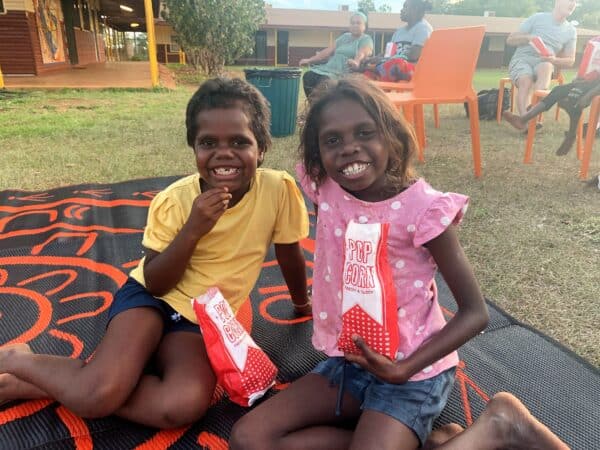 "It is really heartwarming to see the community turning out and enjoying themselves and the thrills and spills of Lil J & Big Kas" det Ned Lander bin tok. Im na bos bla detmob hu meigim det katun. Det najawan weka bla im, Liz O'Dea bin gai nomo lilbit du. Imin tok det imin laigi luk hau mela bin abum det "world premiere" atsaid, gada popkon en gada Kriol olawei.
Imin tok thenggyu la Meigim Kriol Strongbala bla "taking this opportunity so very, very far", en imin tok "what a wonderful job [they've] done to make this project such a multi-tiered opportunity and asset for the community".
Sisan 3 bla Lil J & Big Kas dei stat shoumbat gada Ingglish la NITV la Disemba 17, 2021. Det Kriol wan gada gamat afta, la 2022. Yu gin luk bambai la SBS on Demand en ABC iView.
Iya yu gin irrim Greg Dickson brom Meigim Kriol Strongbala toking la ABC Reidiyo Darwin bla dis projek:
Yu laigim luk dijan stori gada Inggalish?
Klikim det 'English' batin jeya antap bla luk dijan seim websait bat olawei gada Inggalish.