La det skul la Ropa, detmob la Meigim Kriol Strongbala bin gugubat la wanbala klas garrim loda noisiwan, faniwan lilboi en lilgel. Ebri wik, wen im Kriol lesen taim, ola biginini singsing song garrim Kriol. Las yiya, ola biginini bin lenlen difren Ingglish song bla lilboi en lilgel. Alabat titja bin reken gud aidiya bla trai pudum sambala la Kriol du. Mela bin raidimdan en den wen mela bin gu la klas, mela bin trai dalim ola lilboi en lilgel bla meigim det song. Wen mela bin ol pudum det song 'Baa Baa Black Sheep' la Kriol, ebribodi bin laigim:
Ba ba blek ship
Yu garrim eni wul?
Yuwai, yuwai, thribala beig ful
Wanbala bla det olmen
Wanbala bla det olgamen
Wanbala bla det lilboi hu jidan langa kemp
Afta ola kid bin len det song, dei bin singsing ebriweya la komunidi!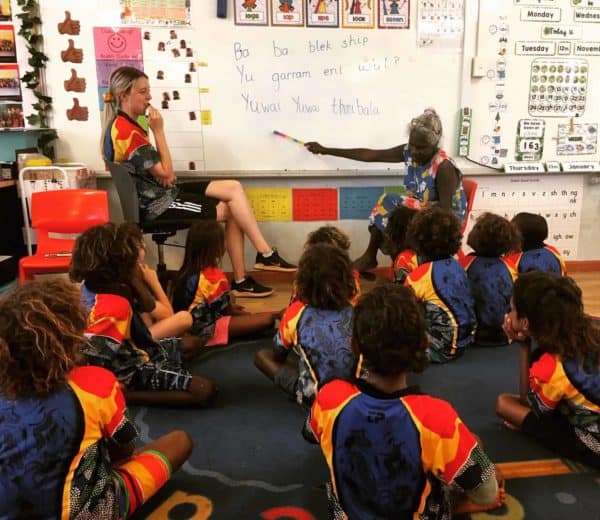 Dis yiya la det klas, ola lilboi en lilgel lenlen bla filings en hau bla jidan gudbinjiwei. Alabat titja bin abum najawan gudwan aidiya - bla pudum det song 'If You're Happy And You Know It' la Kriol du:
Wen yu gudbinji en yu sabi, klep yu bingga
Wen yu gudbinji en yu sabi, klep yu bingga
Wen yu gudbinji en yu sabi, yu garra shoum brabliwei
Wen yu gudbinji en yu sabi, klep yu bingga
Ola biginini stil lenlen dijan yet. En mela garra pudum mowa ves jeya du. Bat mela oldot abumbat fan dumbat dijan iya.
If you are working with Kriol speaking kids, feel free to use these songs too, or share with us any that you have been singing. Thanks to Carol Robertson from Meigim Kriol Strongbala for helping to devise the songs and the Heather Carter at Ngukurr School for the great ideas and support.