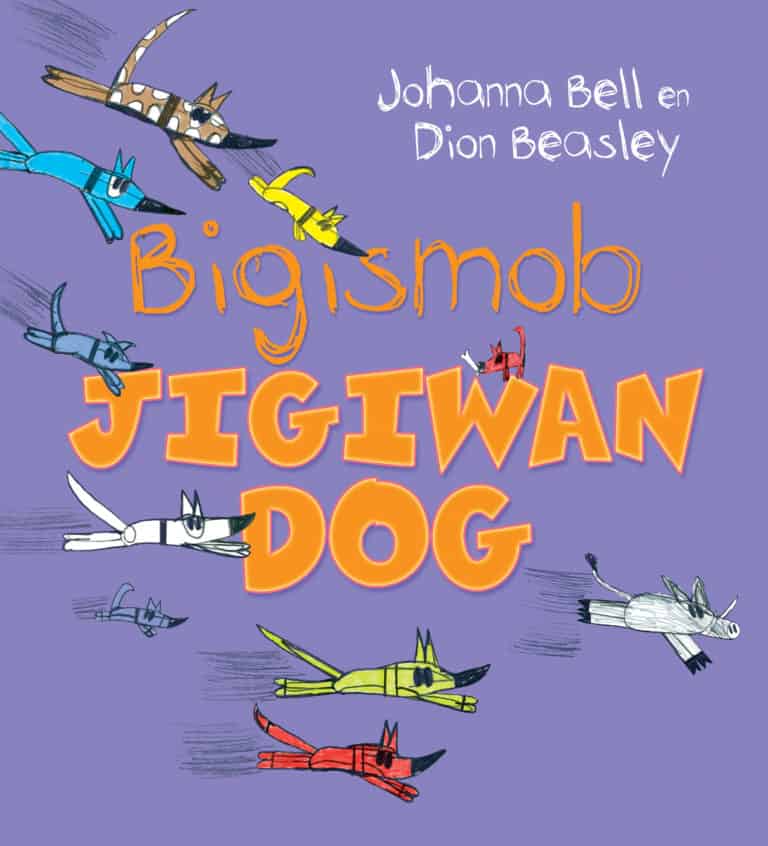 Det Dion Beasley la Tenen Krik bin feimis bla drodro ola jigiwan dog pitja. Den, la 2013, imin raitim wanbala buk gada Johanna Bell, gulum Too Many Cheeky Dogs. From jeya, dubala nomo bina sabi det buk garra gon on. Bigismob Jigiwan Dog im det seimwan stori brom dubala bat im nyuwan du dumaji im la Kriol na. Afta Too Many Cheeky Dogs , det dubala bin raidim mowa stori: Go Home, Cheeky Animals en la 2019 dubala bin raidim Cheeky Dogs: To Lake Nash and Back.
Dei reken maitbi 20,000 pipul tok Kriol rait akros det Kriol Kantri eriya. En so wen melabat iya la Meigim Kriol Strongbala bin tok la detmob hu bin meigim det feswan buk Too Many Cheeky Dogs , en mela bin askim alabat if dei wandim mela bla pudum det buk la Kriol, dei bin laigim det aidiya brabliwei. Greg Dickson, menija bla dis Meigim Kriol Strongbala proujek, bin tok:
"Det feswan buk, Too Many Cheeky Dogs, im sut na, en det stori im olkain det yu sabi wen yu jidan la blekbala komunidi. Det Kriol wan mela bin meigim, Bigismob Jigiwan Dog, im gudwan bla ola Kriol spika, iya la Ropa en la najamob komunidi, dumaji yu kaan faindim matj Kriol buk bla ola Kriol spika bla rid en abum la alabat skul. Speshili gudwan en faniwan buk laik Bigismob Jigiwan Dog!"
Kriol im det neim bla dis langgus wi tok rait akros Noth Ostreiliya. Maitbi 20,000 pipul sabi tok Kriol. Imin kamat afta munanga/gardiya bin stat kaman-kaman la dis kantri. Kriol is laiga Ingglish bat im tu difren from Ingglish na - daswai wi reken Kriol im langgus du na. Bat, yu kaan faindim matj buk gada Kriol , so dijan buk Bigismob Jigiwan Dog im impodenwan buk bla ola Kriol spika mob.
Bigismob Jigiwan Dog im maitbi festaim eni bigwan buk oginaiseishin la Ostreiliya bin trensleitim buk en pudum la blekbala langgus. Diskain weya yu trensleitim buk bla selim, im hepin olataim obasis, bla ol difrendifren langgus. Gada dijan buk Bigismob Jigiwan Dog, det mob la Allen & Unwin hu bin meigim dis buk, alabat dumbat nyu ting weya dei selimbat buk afta sambodi bin trensleitim la blekbala langgus.
La wi komunidi du, Bigismob Jigiwan Dog im meigim ola Kriol spika gudbinji en im gin album biginini la skul du. Carol Robertson bin dum det trensleishin bla dis buk en afta imin luk det buk imin tok:
Im meigi yu eksaided det wi bin dum buk gada Kriol. Im meigim mi laigim mijel.
Glenda im dota bla Carol en imin trensleitim det buk du en im tok bla det buk:
Im impodant bla alabat to learn both ways. Ingglish en Kriol, speshili ola Kriol spika mob.
Bigismob Jigiwan Dog im gamat Jun 2, 2020 brom det buk oginaiseishin Allen & Unwan en yu gin baiyim la bukshop en la mela onlain shop. Mela bin meigim mowa risos bla album pipul hu bin baiyim det buk, laik rikoding so yu gin irrim det stori, risos bla eni titja hu wandi yusum dis buk la alabat klasrum en risos bla album yu rid en gulum ola wed. Dismob risos im friwan en yu gin daunloudim brom Allen & Unwin en la mela websait . Dismob risos im album pipul ridim en yusum dis buk la klasrum en la eni femili o kemp.
Bla mowa infameishin, jendim mesij la mela iya la Meigim Kriol Strongbala.
Yu laigim luk dijan stori gada Inggalish?
Klikim det 'English' batin jeya antap bla luk dijan seim websait bat olawei gada Inggalish.