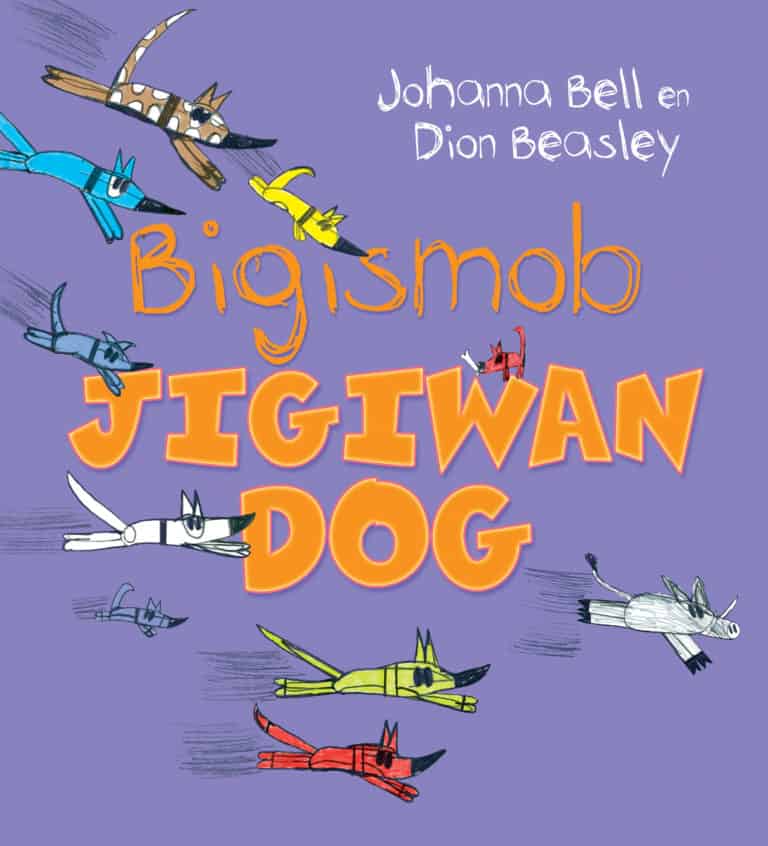 When Tennant Creek's famous 'Cheeky Dogs' artist Dion Beasley teamed up with writer Johanna Bell to create the 2013 picture book Too Many Cheeky Dogs, they couldn't have predicted the longevity of their creations. Bigismob Jigiwan Dog is a new translation into Australian Kriol of their smash hit first book Too Many Cheeky Dogs following on from the pair also creating the award-winning Go Home, Cheeky Animals and 2019's Cheeky Dogs: To Lake Nash and Back.
With around 20,000 speakers across Northern Australia, the original authors and publishers jumped at the chance to translate Too Many Cheeky Dogs into Kriol after they were approached by a community education program from Ngukurr in South-east Arnhem Land called Meigim Kriol Strongbala (Make Kriol Strong). Greg Dickson, who manages the Meigim Kriol Strongbala program and oversaw the translation project, says:
"The original Too Many Cheeky Dogs is visually great and full of events and things that resonate with Kriol speakers living in remote communities so it was an ideal book to translate. Bigismob Jigiwan Dog is an important book for Kriol speakers in Ngukurr and beyond. Many communities and schools in Northern Australia speak Kriol, but there are not many books in Kriol for those students and families to read – especially books as fun to read at Bigismob Jigiwan Dog!"
Kriol – the creole language spoken across mainland Northern Australia by around 20,000 people – developed over a century ago as a result of colonisation. The language is based on English but with so many adaptations and other influences that it has been regarded as a distinct language for several decades. Yet, few books in Kriol exist making Bigismob Jigiwan Dog a very welcome addition to resources available to Kriol speakers.
Bigismob Jigiwan Dog may be creating history as it is the first time a major Australian publisher has released an Indigenous language translation of an existing title. Internationally, literature translation is an immense part of the publishing industry, particularly for the world's smaller languages. With Bigismob Jigiwan Dog, publishers Allen & Unwin are breaking new ground in moving commercial literature translation into Australian Indigenous languages.
Locally, Bigismob Jigiwan Dog is a source of pride for Kriol speakers and a tool for improving education. One of the main translators, Carol Robertson of Ngukurr, said of the book's release:
Im meigi yu eksaided det wi bin dum buk gada Kriol. Im meigim mi laigim mijel. (It makes you excited that we did a book in Kriol. It makes me proud.)
Carol's daughter, Glenda, was the other main translator and affirms the book's importance:
Im impodant bla alabat to learn both ways. Ingglish en Kriol, speshili ola Kriol spika mob. (It's important for them to learn both ways – English and Kriol – especially the Kriol speakers.)
Bigismob Jigiwan Dog is officially released on June 2, 2020 by Allen & Unwin, available in bookstores and on our online store. Additional support materials including audio recording, teacher's tips and a pronunciation guide are freely available online through Allen & Unwin and on our website to support the use of the book in classrooms and by all children and families.
For media and other enquiries, contact Meigim Kriol Strongbala.
Want to read this post in Kriol?
Click the 'Kriol' button above to visit the Kriol version of this website.